The Lethbridge airport offers an ideal location for flight training. It is a small airport with features you would expect to find at larger airports around the country. It is serviced by several scheduled carriers including our partner, Integra Air.
The Lethbridge airport offers:
a Flight Service Station
Instrument Approaches
Friendly Fixed Base Operators (we now have our own dedicated maintenance team!)
Low volume traffic; no Air Traffic Control means less waiting and more flying!
Within minutes of the Rockies!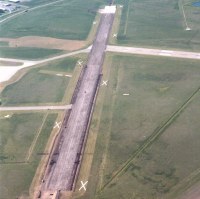 This is a picture of runway 12/30 taken around June 20, 2001. It has been repaved and narrowed to a width of 150 ft. (click for a large image)